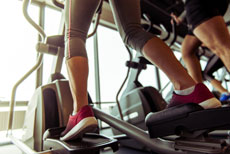 Get better results in less time with fewer workouts than you would expect.
A brand-new way to workout starts this January at Twin Cities Y locations. The Sprint 8 program is a Small Group Training class that uses Matrix equipment for 30 minutes of intense activity.
What is Sprint 8?
Sprint 8 is an intensity-based training program that's optimized to help you build muscle and burn fat quickly and effectively.
Class details:
Size: Like all Small Group Training classes, you'll be working out with a small group of 4-8 other members and a personal trainer. This provides a high level of comradery and accountability to keep you on track and motivated.
Equipment: For this class, each participant will be on a Matrix machine. If you're not familiar with Matrix machines, they are a brand of cardio equipment with cool interactive screens. (You may have already noticed the Sprint 8 program option while working out on treadmills, bikes and elliptical machines with Matrix screens at the Y. Come to a class to see what it's all about!)
Duration: Sprint 8 at the Y will be offered in quick 30-minute classes.
The Sprint 8 workout itself is split into four parts:
THE WARM UP (a few minutes): Move at a moderate rate to gradually raise your heart rate.
THE SPRINTS (30 seconds each): Go all out for these intense half-minutes of action for maximum results. The complete workout has 8 sprints.
ACTIVE RECOVERY INTERVALS (90 seconds each): Between sprints, you'll lower the intensity but keep moving. These 90 seconds allow your heart rate to come down and help your body recover in time for the next sprint.
COOL DOWN (a few minutes): Slow down dramatically to reduce your heart rate and cool down from the intense Sprint 8 workout.
What's different about the Sprint 8 program?
This science-based program uses high-intensity methods that athletes employ. Instead of taking a slow approach to reducing fat and building muscle—like jogging, for example—Sprint 8 uses intense training.
Slow workouts lead to slow results. Quick, intense ones like Sprint 8 deliver results much more quickly. Why? Here's where it gets a little science-y. Intense training produces elevated levels of human growth hormone (HGH)1, which is associated with increased lean muscle mass, decreased body fat and higher energy.
The Sprint 8 training routine is scientifically proven to stimulate the release of natural growth hormone and produce dramatic physical results in average people.
Why try the Sprint 8 program?
Benefits of joining a Sprint 8 Small Group Training class at the Y:
Get an intense workout in just 30 minutes.
See big results in a small amount of time.
Transform your body and improve your health—reduce body composition, increase lean muscle and lower LDL (bad cholesterol).
Enjoy individualized attention in a small group setting.
Who should join a Sprint 8 class?
While the Sprint 8 class itself is intense, it is truly for everyone. All ages and all fitness levels can participate and see results. Start the program at your level and then increase the intensity/resistance as you progress. Plus, your Personal Trainer and small group will help keep you motivated and accountable.
The inclusiveness of this program is exactly why we wanted to start offering it at the Y. Sprint 8 offers a wonderful sense of community and delivers real results to everyone.
Try Sprint 8 today!
Not all Small Group Training classes are offered at all Y locations. Check your local Y to see if it offers Sprint 8 classes.
Like all Small Group Training classes, there is a fee to join Sprint 8. But it costs less than Personal Training and can yield the same results! Try it and see for yourself.