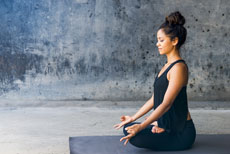 Exercise, nutrition and meditation all contribute to wellbeing—here's how to get started.
The Y thinks of "wellbeing" as the state of practicing one's full potential for the capacity of life, mind-body-sprit-community and environment. Wellbeing requires a multi-pronged approach that ideally includes exercise, nutrition and meditation. Each element is interconnected—and they impact each other.
As you look ahead, here are some ideas to help you set the stage for a year of wellbeing:
Exercise
In addition to feeling energized and positive about your progress, regular physical activity is shown to improve overall health and make a positive impact on aging. Need reasons to try this 30-minute full-body workout?
Ongoing exercise can help:
Control weight
Reduce risk of cardiovascular disease, type 2 diabetes, metabolic syndrome and some cancers
Strengthen bones and muscles
Improve mental health and mood
Improve your ability to do daily activities and prevent falls
Increase your chances of living longer
Exercise can influence how your quickly your body grows older. For example, with age:
Resting heart rate increases—exercise can help decrease resting heart rate.
The speed at which intestines empty decreases—exercise can help increase speed.
Metabolic rate decreases—exercise can help increase metabolism.
Body fat increases—exercise can help decrease body fat.
The risk of depression increases—exercise can help decrease this risk.
Nutrition
Good nutrition impacts so much more than weight. Jennifer Barnes, a licensed nutritionist with George Wellbeing at the Dayton at Gaviidae YMCA says proper nutrition can have a positive impact on mood, blood pressure, cholesterol, digestive function, sleep and even stress.
When working with people on creating a personalized nutrition plan, Jennifer can help uncover underlying causes of symptoms by thoroughly considering an individual's health history. She often explains how blood sugar impacts cravings, mood, sleep and the ability to lose weight.
Focusing on eating foods that support your body can help achieve your health goas, alleviate common health symptoms and even reduce the need for medication. For example, if quality sleep is a concern, incorporating foods that support mineral and b-vitamin status can help. Foods such as leafy greens, legumes, nuts, seeds and salmon build nutrients, keep your energy balanced during the day, and maintain healthy sleep cycles at night.
Whether you're looking for a refresh, or are managing a chronic illness, working with a nutritionist can help you create the lasting changes you hope to make in your life. You can work with a George Wellbeing nutritionist virtually or in person.
Mindfulness and meditation
Mindfulness is also an important component of overall wellbeing. It can even improve physical health and mental health. So, what is "mindfulness"? It is a certain way of paying attention, and bringing awareness to whatever is happening in the moment. Mindfulness means:
Having intention to be attentive
Being open to the idea of being present and honest with yourself
Observing what's happening, rather than trying to control what's happening
Meditation is one of the ways you can train yourself to work toward mindfulness. As the new year ramps up, try these ideas to start or expand your mindfulness practice:
Everyone breathes, so try focusing on the sensation of breath—whether you're working or working out.
Do a quick scan of your body, starting with your feet and working your way up. How do you feel right now?
While walking, try to appreciate where you are, rather than where you're trying to go. What colors, smells and sounds do you experience?
The Y is currently offering virtual meditation and mindfulness classes on Facebook Live.