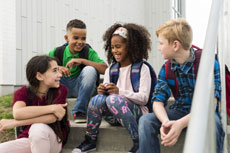 With a mission to enable healthy spirit, mind and body for all, the YMCA maintains an ongoing commitment to preventing bullying.
The Centers for Disease Control and Prevention defines bullying as, "any unwanted aggressive behavior by another individual or group that involves an observed or perceived power imbalance, and is repeated multiple times or is highly likely to be repeated." Common types of bullying include rumors or lies; name calling, insults or teasing; hitting, shoving or tripping; exclusion and property damage.
StopBullying.gov cites that:
All young people are impacted by bullying, whether they are bullied, bully others, or witness bullying.
20% of kids ages 12-18 experience being bullied.
Nearly 15% of high school students are bullied online.
Although 19% of students in grades 9-12 report being bullied at school, bullying also takes place in sports and extracurricular programs. This is why the YMCA prepares program leaders with trainings, workshops and the emotional intelligence to support youth. Y programs for all ages:
Have clear processes for resolving conflict
Kate Whitby, Senior Director of YMCA Neighborhood Centers explains the process used to address bullying in the Neighborhood Centers. "The first thing we do is to call it out. If you make a public mistake, you make a public apology. Although teens often want minimize bullying as 'just joking,' we do not sweep reconciliation under the rug." 
Kate says the next step is to counteract bullying. "Saying sorry isn't the same as reconciliation. We might also ask the initiator to think of three positives to share about the person they bullied." This protocol helps young people acknowledge unacceptable behavior, take accountability, undo the harm and even learn how to accept compliments.
When a cyber bullying incident occurs at a Neighborhood Center, it's more often between a participant and an external party, so Kate shares that program leaders shift focus to the person being bullied. "We'll talk about their feelings, what they would like to do and what changes they might want to make in how they relate to the cyber bully." Again, she says it can be a challenge for young people to want to ignore it, but she stressed the importance of peeling back layers to help the young person to instead address it.
Maddie Hodapp, Youth Support Program Manager for Youth & Family Services says that participants in Youth Leadership Council and Youth Advisory Boards are asked to create their own code of conduct. "When young people create and agree to their code of conduct, it gives them ownership and autonomy—versus being told what to do."
Role model core values and talk about the Y's mission
Participants in Y programs learn about and practice values that include caring, honest, respect, responsibility and equity. Kate says that all program leaders role model each of these values in interactions with families at Neighborhood Centers. 
Maddie echoes this concept. "I work to ensure that role modeling is reflective of how I want to be treated. We focus on intentional listening and creating a culture that treats all youth with care. We walk along with them and ask for their permission to support them."
Include activities designed to help participants think about things from different points of view
Maddie says that highlighting youth voices in Youth & Family Services programs is an ultimate embodiment of respect. "Giving youth a voice at the table, and asking them what success looks like in their eyes requires us to have a willingness to change, and adjust to individuals."
She shares that especially when young people can bond over passions and share in the advancement of policy change, youth are really welcoming to other opinions.