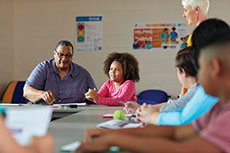 Celebrate Martin Luther King Day with a commitment to give back and serve your community.
Each year, the United States celebrates Dr. Martin Luther King, Jr. on his birthday—January 15. Volunteering on the holiday is a common way to honor Dr. King's words from 1957, "Life's most persistent and urgent question is, 'What are you doing for others?'"
Volunteering feels great, and is good for you
Martin Luther King Day is a federal holiday and national day of service that encourages Americans to volunteer to improve their communities. In addition to feeling good about helping your community and expanding your skills, volunteering helps your health.
The Mayo Clinic Health System identifies these associated boosts to your physical and mental health:
Lower rates of stress, depression and anxiety
Lower mortality rates
Increased feelings of relaxation
Increased sense of purpose, life satisfaction and self-esteem
Increased social interaction
Getting started with volunteering
The first step in volunteering requires some internal reflection. Start by considering:
What are you good at? 
What do you enjoy doing? 
What are you passionate about?
What do you want to achieve? (for example, improve your neighborhood, try something new, etc.)
According to NBC's Today, Dr. Bernice A. King, CEO, The King Center, says of the holiday, "My father's ultimate dream was to have people from all backgrounds come together and celebrate our differences as well as our commonalities. The are many ways to give back and honor the spirit of my father not only on this King holiday, but every day, and make this time of commemoration meaningful."
Next, you'll need to consider places you might want to volunteer your time and talents. You can try an online search at MLKday.gov or AARP.org. Or you can connect with local organizations such as:
Youth organizations
Places of worship
Libraries and senior centers
Community theaters and museums 
Animal shelters
Finally, you'll need to ensure a potential volunteer opportunity is a fit for your life. Confirm the time you can spend. Ensure you understand exactly what you'll be doing. And ask any other questions to help your volunteering experience be something you will truly enjoy!