The staycation is summer's best-kept secret. Here's how you can turn yours into an unforgettable family retreat.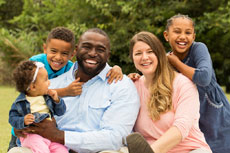 For busy families, planning an out-of-town trip can seem even more stressful than sticking to the daily grind. Enter the "staycation," that magical time out from real life that lets you relax and reconnect without the hassle or expense of family travel.
Here's the thing: For the staycation to really count, you have to commit to unplugging (literally and figuratively) from demands of work and other obligations. These healthy distractions will keep you away from your inbox and operating in full-on vaycay mode:
Explore a new activity—Summer is the perfect time to try out classes and workshops you never seem to have time for during the busy workweek. It's also a great way to meet new friends who share your interests.
Cook up a storm—With the entire household focused on hanging out and having fun, you can get everyone in on meal prep—even if it's just for a simple picnic lunch. Who knows: You might just start a new family tradition!  
Do it at the Y: Cooking and Nutrition classes teach kids ages 3-11 how to serve up their own healthy meals and snacks, while encouraging them to try new tastes and explore cultural cuisines.
Make a staycation soundtrack—Even if the day's forecast isn't fit for outdoor fun, you can still steer the crew away from spaced-out screen time. Ask everyone to suggest a song or two for a Summer Staycation Soundtrack that gets the whole family moving, dancing, singing and playing together. You'll also have a lasting memento of your summer adventures.
Do it at the Y: Load the family-approved tunes onto your phone or MP3 player, and rock out to your hot new playlist during your next workout at the Y. 
Find more ways to get wet—Summer wouldn't be summer without a dip in the lake or a splash in the pool—or both!
Do it at the Y: Check out Camp Manitou's brand new aquatic center with cool features like a heated pool, dynamite water slide and splash pad.
Do it at the Y: Discover all the water fun your local Y has in store for summer.