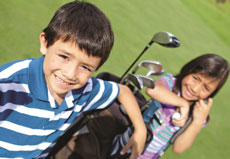 Dads are often our first superheroes, so plan an active day fit for an action hero.
Need some super ideas to make this year special for your "Super Dad"? You've come to the right place. Father's Day started at the YMCA more than 60 years before it was recognized as an official holiday. Since then, the Y has been finding active, healthy ways to help dads enjoy their day. Here are a few ideas:  
Give Dad free time to workout
Whether he likes basketball, cycling, working the weights or another activity, give Dad a few hours—without worrying about his normal dad duties—to workout. No baby sitter? No problem. If Dad is working out at the Y, the kids can have a blast in childcare while you work out for up to two hours.
And if you need a gift idea, consider a session with a Personal Trainer to make that Father's Day workout even more beneficial.
Exercise as a family
Everyone can spend quality time with Dad on Father's Day by doing some activities that get the whole family exercising together. For example:
Get granddads in on the action
These days seniors don't sit on the sidelines, they get in on the action. So plan activities that encourage everyone—from kids to grandparents—to participate. AARP suggests these multigenerational activities:
Hiking or walking: Venture onto one of the Twin Cities' many hiking trails or just take a walk around the neighborhood. Incorporate scavenger hunts or nature walks to keep kids interested.
Tai Chi and Yoga: There are classes in Tai Chi and Yoga for all ages at the Y.
Golf: Whether you want to do 18 holes at a local course or mini-golf with the kids, golf will get everybody moving. 
Exergaming: Gaming systems geared toward fitness—such as a Nintendo Wii—have been proven to motivate multi-generational family togetherness (and fun).
Go ahead and grill
While it may not be an exercise, grilling is probably the activity most associated with Father's Day. Try these recipes from The Chef Marshall O'Brien Group for nutritious and tasty grilling options for your Father's Day feast.