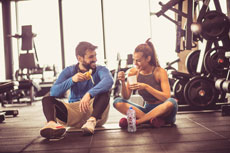 Tip: Refuel post-workout with snacks that boost performance and nourish while they replenish.
By the Chef Marshall O'Brien Group
With marathon and kids' sports season upon us, many of us will be looking for quick, nourishing ways to refuel and replenish after long workouts or big games. Often, we fall into the trap of grabbing energy bars and sports drinks loaded with ingredients that do not nourish us. Chef Marshall offers tips for fueling up with whole-food snacks that boost your performance and help you feel your best in the long run.
Energy Bars
Many 'energy' bars are so loaded with sugar they are more like candy bars in disguise. In many cases, refueling with a nutrient-dense snack is your best option. When you do opt for a bar, look for these characteristics for energy that nourishes and sustains. 
Real ingredients – Nourishing energy bars are made with whole food ingredients – and not too many of them. Choose bars made primarily of nuts, seeds and dried fruits. 
Less sugar – Look for bars with no added sugars and less than 10-15g total sugar. 
At least 3g fiber – Fiber helps sustain the energy you get from a bar. Ideally, the fiber should come from whole foods sources like fruits, nuts and seeds, not fiber supplements. 
At least 10g protein – Protein provides lasting energy and helps rebuild muscle after a workout. Sports dietitians usually recommend around 20g of protein post-workout to rebuild muscle – more is not necessarily better.
Sports Drinks
The best advice for sports drinks? Most of the time, you don't need one. A sports drink can be useful when you are engaged in strenuous exercise for longer than 60 minutes or are in high heat for extended periods of time; otherwise, stick to water, a piece of fruit and some protein after a workout or game. When choosing a sports drink keep these tips in mind:
Know when you need one – most of the time, water will suffice
Avoid artificial colors and other added chemicals
Avoid high fructose corn syrup
Consider coconut water as a natural high-electrolyte post-workout drink
Homemade Energy Snacks
Your best bet for naturally nourishing energy snacks is making your own! Chef Marshall's favorite homemade energy snacks are simple to make and take along when you need them:
Chocolate Chip Protein Snacks -  Energy dense and loaded with protein, these wheat-free bars are perfect for replenishing and rebuilding after an intense workout. 
Make-Your-Own Trail Mix – There is nothing like good old raisins and peanuts for sustained energy when on the go. Mix your favorite nuts, seeds and dried fruit for your own individualized energizing snack.
Banana Energy Bites – These delectable energy bites are high in protein and fiber, with fruit, nut butter and dark chocolate for an energy boost the whole team will love.
Nourish Yourself for Your Best Performance
Replenishing after an intense workout or game doesn't need to involve consuming excess added sugars, colorings or chemicals. Be smart about how you energize so you can feel your best and power up to reach your goals.
You will love the way you feel!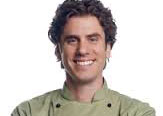 The Chef Marshall O'Brien Group is a dedicated assembly of professionals based in Minneapolis, Minnesota, committed to the goal of using nutrition to get kids and families to lead happier, healthier lives.