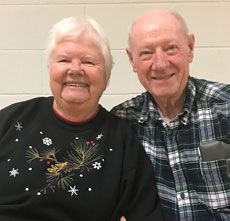 Arlo and Janice Pannkuk impact local and global Y communities, and create a gift to impact the YMCA long into the future. 
When Arlo Pannkuk returned to Minneapolis in 1960, his brother-in-law invited him to join the Roosevelt YMCA Y's Men's Club. This friendly invitation led Arlo to a lifetime of service and leadership with Y Service Clubs locally, nationally and internationally.
"As a service person, I can't say 'no,'" Arlo said. This 2018 season was his 59th year selling Christmas trees with the Y Service Clubs to raise money for YMCA scholarships and program subsidies.
Arlo and wife Janice have also made the ultimate gift to support these programs beyond their lifetimes: a planned gift to the YMCA in their will.
From serving his country to serving the community
Growing up on a farm near the Iowa-Minnesota border, Arlo arrived in the Twin Cities in 1951 to attend Macalester College, where he met his future wife Janice Lunneborg. Arlo and Janice married in 1956 while Arlo was serving in the U.S. Army. After completing his military service and a few years working in St. Louis, the couple returned to Minnesota where Arlo became an early developer of operating system software.
It was then that Arlo's involvement in the Y's Men's Club began. Janice participated first through the Y's Menettes and later the Y Service Club. The couple was drawn to the Christian values of the YMCA and the opportunities to serve their community.
Committed to strengthening the global community
Soon after joining the Y's Men's Club, Arlo became a District Governor for Y's Men in the local district. In 1999-2000, he was named U.S. Area President and served on the Y's Men International Council. During that time, Arlo began to realize the profound impact of the YMCA across the globe.
"We came together through shared values and a determination to strengthen our communities," he said.
Arlo and Janice have traveled across the world for Y Service Club council meetings and conferences. But their global outreach doesn't stop there. Back in Minneapolis, Arlo and Janice have hosted over 20 foreign delegates, most of whom were connected to a YMCA or a Y's Men's Club. They even helped a young man and his family immigrate to the United States after fleeing civil war in Sierra Leone.
Remaining rooted at the local Y
As Arlo and Janice worked on their global community efforts, they continued to serve locally. Arlo served on the Hiawatha YMCA and Blaisdell YMCA Community Boards, and today advises the YMCA President/CEO as a member of the YMCA of the North Legacy Board.
Arlo also remains active as the secretary of the Hiawatha Y Service Club and editor of its newsletter. Janice is still a member of the club, too. As residents of Burnsville, they take classes and exercise regularly at the Burnsville YMCA.
Making sure the community stays strong for years to come
Arlo and Janice want to ensure their commitment to the community lives on. Making a planned gift to the YMCA through their estate is important to them both.
"The YMCA can do things that other organizations can't," Arlo explained. "The Y's presence across the country and the world, its breadth of programs, and its resources and staff allow for great impact. I have seen firsthand how the YMCA has tremendous impact on youth and our communities."
Interested in making your own planned gift to the Y?
To designate your own gift to the Y in your will or as an IRA beneficiary:
Indicate the YMCA branch or camp endowment fund toward which you are directing your planned gift.
Also include: YMCA of the North*, 651 Nicollet Mall Ste. 500, Minneapolis, MN 55402 (Federal Tax ID 45-2563299).
Contact YMCA Senior Director of Planned Giving, Jeri Glick-Anderson, at 651-435-6724 for more information or to let us know of your plans.
*The YMCA of the North is a 501(c)3 nonprofit organization and serves as the legal entity for all YMCA branches and camps.