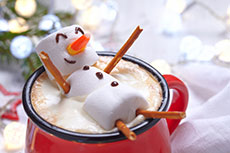 Try these ideas to enjoy—rather than stress about—the end of 2020
This year has presented opportunities for all of us to try doing things differently—from remote work to how we connect with friends and family. Keeping with this theme, there's an opportunity to approach the holidays in a new way, too.
If you're missing the holiday spirit …
Thanksgiving might already be over, but it's still a great idea to focus on gratitude. Try:
Making a list of the 2020 "opportunities" (see what we did there?) that have had some enjoyable benefits. Maybe you've swapped commute time with a new routine with a loved one. Maybe you've discovered a hidden passion for cooking …
To determine simple gifts for your friends and family. Skip shopping and whip up a new dish (or craft, etc.) you've learned to master in 2020. Pair the item with a thoughtful note and leave a lovely surprise on someone's doorstep.
If you're missing tradition …
It might not be possible to carry on with a favorite year-end tradition this year. Try:
Putting some traditions on a new every-other-year schedule. This can help traditions feel more special, and give you a chance …
To create new traditions. Bummed your favorite holiday party is cancelled? Consider instituting a themed holiday movie night for your household where everyone wears holiday pajamas and noshes on a nutritious holiday snack for the flick.
If you're overwhelmed …
Whether today's feeling is exhaustion or frustration, it's never been more important to care for yourself, which can have a tremendous impact on your overall wellbeing. Try:
Making sleep a priority. Adequate sleep supports your immune system, and can help ward off overeating holiday treats. Learn more about self-care with a one-on-one appointment with George Wellbeing.
To move your body every day with a range of activities. Enjoy a seasonal outdoor activity like sledding, skating or skiing. Find all kinds of virtual options to stay active, including on-demand wellness classes from Facebook.
As the holidays approach and we close in on a new year, it is most important to remember that this year has been full of extenuating circumstances. It's OK to give yourself a break when things don't go as planned. Start 2021 with an importance on being kind to yourself!