Still waiting for life to slow down so you can, too? Turn the tables and take the lead with a smart strategy for chilling out.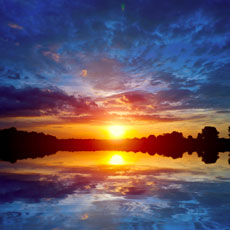 If you thrive on adrenaline and to-do lists, remembering to step back, breathe deeply and play (yes, play!) isn't just a way to wind down. It's also a means of finding some much-needed perspective. (Which happens to be good for productivity.)
And slowing down doesn't have to mean stopping. If our ever-present pedometers and heart rate monitors have taught us anything, it's that staying in motion provides a healthy way of maintaining mind-body balance. 
So here's your challenge: Try out an activity that's less about the number of calories burned or reps performed, and more about relaxation, stretching or just plain fun. And above all else: Leave your phone somewhere else so you can reconnect with … you.
Splash around in the pool—Forget laps—just float. Catch up with a friend while you tread water. Watch your kid try out a new swimming skill. Laugh a lot. Repeat. If you need a little more structure in your aquatic adventures, H20 Flow is the "just add water" version of Tai Chi, Pilates and Yoga all rolled into one.
Get back to basics—It's never too late to reconnect with nature. And it's not too early to start planning your next camping adventure in Minnesota's incredible North Woods. Camp du Nord offers 2- and 3-night retreats for men, women, couples and families. Check out the Fall 2016-2017 schedule and get ready to rediscover your outdoorsy side.
Condition more than your muscles—Instead of only doing workouts that amp up your heart rate, try taking it down a notch once or twice a week in a free, relaxing group class like yoga or Pilates. For a happy medium, try PiYo™ Strength, a low-impact boot camp that builds core strength, flexibility, balance and endurance.
Quiet your mind, one move at a time—Tai Chi has been described as "meditation in motion." Originally developed for self-defense, this ancient Chinese exercise form improves circulation and concentration through continuous, gentle movements that help harmonize body and mind. The Y offers a variety of Tai Chi classes for specific health and stress-reduction goals.
Take a walk, plain and simple—So good for you it's practically a no-brainer, walking is low-impact cardio that boosts energy and circulation, reduces stress, and brings more oxygen your body's cells. Some studies show a brisk walk works as well as pharmaceutical antidepressants when it comes to keeping mild- to moderate depression in check.
Pick a partner in R&R—Invite a friend or two to walk, work out or stretch with you. Put these meet-ups on your calendar like any other appointment. Having someone hold you accountable to your "stop and smell the roses" goals will help you prioritize your health … and stay connected to the people in your life who matter.
Warning: Side effects of relaxation may include clear-headedness, unexplained positivity, reduced stress and anxiety, and extended bouts of happiness.