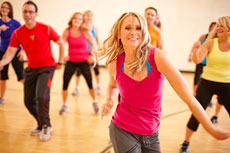 World music, dance and cardio come together in these fun Group Exercise classes
Zumba is a cardio class that features music and dance moves from all over the world. In addition to aerobics steps—think grapevine and v-step—class incorporates a variety of dance styles such as salsa, merengue, cumbia, reggaeton, bhangra and more.
Zumba Gold is the same class, but is lower impact with fewer jumps. If you have an injury or are new to dance, Zumba Gold is a great option.
Why give Zumba a try?
According to Laura Lindeman, a Group Fitness Instructor at the Elk River YMCA, the goal in Zumba and Zumba Gold classes is to get you moving, having fun listening to world music, and enjoying dancing a variety of styles.
Laura says that in class you burn calories, get your daily steps in and time flies by. "It's also a great way to add some variety to your weekly workouts," she says.
No dance experience required
"People who are considering class will tell me they aren't coordinated enough to try Zumba or Zumba Gold—but the patterns are basic, easy to follow and it's truly for all ages and abilities," says Laura.
She suggests coming to class at least three times to give it a fair shot. "You might not get every step and that's OK! You will still get the benefits of a great cardio workout."
Preparing for your first class
Although the name might sound exotic, you can wear your typical workout clothes to class. For footwear, wear supportive shoes that aren't too "grippy," or dance socks are an option, too.
Throughout class, dance moves will progress and offer options for higher or lower intensity. Plan on bringing a water bottle to stay hydrated.
The temptation is always to find a spot in the back of the room when you're new—but it's more beneficial to head near the front of the room where you can clearly see your instructor.
Zumba and Zumba Gold are Group Exercise classes, which means they're free for Y members. Drop in to give it a try at any time—no registration required.