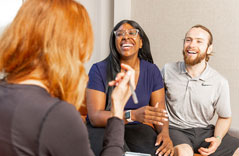 Behavior change isn't always easy—find out how to help new routines stick
With a new year in sight, some are making plans for how the next year might be different.
Rosemary Parece, Board-Certified Health and Wellbeing Coach at the George Wellbeing Center shares some good-to-know information for those looking to change behaviors—whether at the start of a new year, a new week or a new day:
Goals vs. change
It's important to understand there is a difference between desired outcomes (or goals) and the steps (or changes) needed to get there. An example goal might be "have more energy" and the steps to get there might include "go to bed on a regular schedule and exercise regularly." Keeping an eye on your vision and the smaller steps needed to get there is important.
Build time for reflection
The first step in successful change is to take the time to be thoughtful about what you want to change. "You might do some journaling or talk it through with a trusted friend," says Rosemary. She suggests thinking through:
What are you invested in?
What are your values?
Why is this change important?
When you do have time in your day to make space for work toward this outcome?
How will you know when you've achieved your goal?
Collect data
To help understand your baseline behavior before change, it can be helpful to collect information about what you do currently. Then, once you have a vision for change in sight, track your progress along the way, so that you can …
Notice and celebrate successes
When you achieve a small or large milestone—be sure to recognize it. Think about what went right that day to help you successfully move toward your desired change.
On the flip side, remember that the change process isn't perfect. Rosemary says, "Life is going to happen. Try not to get discouraged when things don't go according to plan. Instead, return to and reconnect with your impulse toward health."
Connect with others
Rosemary suggests not approaching change alone. "Find a way to connect with others who share the same notion of forward motion. Be intentional about finding a community that supports health," she says.
If you'd like help with change—especially if you've tried making changes before but have had difficulty sticking with it, the George Wellbeing Center offers services to support you. Health and Wellbeing Coaching can help you:
Sort through options for change, based on your personal values
Put together a personalized Wellbeing Plan, which includes your vision and smaller, short-term goals to work toward that vision
Maintain accountability to your best instincts and best self
Find the George Wellbeing Center on the skyway (second) level of the Dayton YMCA in downtown Minneapolis. Stop by in person, or call 612-465-0468 for more info.