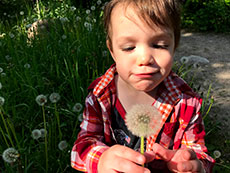 Nature experiences are essential for every age—find out why
Throughout history, nature has been a part of every generation's life. From humans living outdoors to farmers focusing on working with the land, connecting with nature used to be built into life. However, in modern times, this has changed. The Children & Nature Network reports, "On average, today's kids spend up to 44 hours per week in front of a screen, and less then 10 minutes a day playing outdoors."
Children and adults alike need to have nature connection into daily life for optimal wellbeing. Without it, we're left with Nature-Deficit Disorder®, a term that author Richard Louv coined to describe our increasing alienation from nature.
Michel Tigan, Vice President of Camp Operations for YMCA of the North echoes these concepts, "Nature is a birthright every person should have. When we do, the outcomes are significant."
How nature helps
Michel says that any activity or movement done in fresh air—whether it be forest bathing, taking a hike or gardening—can help boost wellbeing in a variety of ways:
Increase happiness
Decrease stress
Increase self-confidence
Decrease depression
Increase feelings of mental restoration
She adds, "Every little bit in nature helps. Exposure to the outdoors helps boost emotions, which can then positively contribute to physical health."
Nature-focused summer fun for kids
This year, the Y is offering two new programs to help kids gather and find community with and in nature.
Nature in the Neighborhood
Nature Deficit Disorder impacts those in urban environments most. This program connects young people to nearby nature and includes the option of before- and after-care activities. Kids can still register for Hidden Falls Day Camp in St. Paul in July.
Nature in the Neighborhood is a collaboration with the University YMCA, which is providing interns that will lead programming and represent diverse role models for kids who attend.
Minnesota Zoo Survival Camp
This new partnership with the Zoo will have kids heading to the Wells Fargo Family Farm for two weeks of day camp, Monday through Thursday, with the option to stay overnight on Friday. Participants will learn outdoor skills such as tying knots, starting a fire and what to know about the plants in the area. Minnesota Zoo Survival Camp also includes before- and after-care options.
Outdoor activities for all ages
The Y has all sorts of options to get everyone outdoors—consider these options to get started, and then see where your own nature adventures will take you!