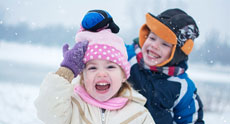 Try these 4 tips to recharge and be your best self during this busy time of year.
The end of the year is almost here. In tandem with plentiful celebrations and gatherings, stress levels and feelings of being stretched thin can also be in excess as you manage it all for your family.
To help keep your wellbeing and self-care practices in check this season, try these tips:
#1 Exercise
Jennifer Menk, Senior Director of Health and Wellbeing for the YMCA of the North says, "Exercise increases endorphins—chemicals in your body that make you feel better. Maintaining fitness when overwhelmed helps you think clearly, prioritize and have the endurance to get through times of hustle."
Exercise can help improve your quality of sleep and improve energy levels—both of which can help to manage stress. Jennifer considers working out to be a way to "burn off stress in a healthy way, which benefits your physical and emotional wellbeing."
Here are a few easy ideas to enjoy exercise as a way to relax and rejuvenate …
Just for you
Together time
#2 Be mindful
Sally St. John, Director at the George Wellbeing Center says, "Self-care practices, such as meditation, allow our getting-it-done practices to be done more productively. Mindfulness research has demonstrated that when we take just a handful of minutes a day to tune-in to our self with a body scan or breath work, we improve our cognitive ability to make faster and more meaningful decisions."
Kids can get in on mindfulness, too. Sally suggests creating a glitter jar as a fun activity.
At the George Wellbeing Center, you can find a variety of aids for relaxation, including …
Restorative services
Wellbeing shopping
Stop in to browse goods like essential oils, massage roller balls, bath salts blue-light blocking eyeglasses and much more.
#3 Pay attention to your diet
Some foods have the power to lower or raise levels of stress and anxiety. Learn which foods to build into your meal planning to reduce stress. For a more holistic look at how nutrition can impact the way you feel, schedule a free 60-minute Nutrition Foundation Session at the George Wellbeing Center.
#4 Plan ahead for fun activities
Whether you want to tackle holiday prep or take a break from it all, drop kids off at Parents Night Out at the Y on December 14.
Visit your local Y as a family for a variety of holiday events.
Keep kids entertained during winter break with field trips, games and camps at the Y.