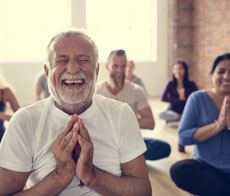 There are lots of terms used throughout the health, wellness and wellbeing space—learn how they relate.
In your YMCA experience—where one of our primary areas of focus is Healthy living—it's likely you've heard about "health," "wellness" and "wellbeing." You might be wondering whether they all mean the same thing—and if not, how do they relate?
Sally St. John, VP of Integrated Health and Wellbeing at the Y breaks it down with some definitions:
Health—the state of being free from physical illness or injury.
Wellness—the state of being in good physical health.
Wellbeing—the state of practicing one's full potential for the capacity of life, mind-body-spirit-community and environment.
"Western society has been more dominant in considering the body dimension of this equation. At the Y—and the George Wellbeing Center—we're trying to be leaders in considering more holistic care that looks beyond the physical aspects of health," Sally says.
For example, if you want to work on being a faster runner, you might think it's natural to integrate cross-training into your fitness routine. Or if you're an aspiring yogi, you might strive to integrate elements of yin and yang into your practice.
This same concept can apply to wellbeing, which ideally includes a mix of passive and active care practices. Passive care can include things like receiving bodywork, acupuncture or meditation. Active care can include things like engaging with nutrition, healthy lifestyle habits, mindful movement and physical fitness.
"We are a 'doing' culture—but active and passive care practices are equally important. Remember that you're still 'doing' something when engaging in passive care," says Sally.
Ready for wellbeing?
Bring your questions to the George Wellbeing Center—we're happy to help you determine which care practices can help round out your total wellbeing. Find us on the skyway (second) level of the Dayton YMCA in downtown Minneapolis.