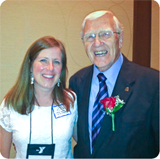 Armin "Whitey" Luehrs had a 41 ½ year career with the YMCA and was one of the most highly recognized camping specialists from 1948 - 1990. Within the camping movement of his time, he was considered legendary by his peers.

He started with the Y as a Hi-Y high school student in Wisconsin and then a summer staff person at Y Camp Manito-wish in Wisconsin. After graduating from George Williams College with degrees in Group Work Education and Administration, he began is career as a Camp/Community Director in Davenport, Iowa.

He then came to Minnesota, working with the St Paul Y, as Director of wilderness canoe Camp Widjiwagan and establishing family Camp du Nord.

Throughout the 70's and 80's, Whitey became an advisor and consultant for camps during hard times. He has visited over 200 Y camps, offering exemplary service to many.

His work with Y camps has proven to be essential in the mission and focus of our Y camps. And we are extremely grateful for his service. And it is because of all this work that we are proud to induct him into national YMCA Hall of Fame.