by the Chef Marshall O'Brien Group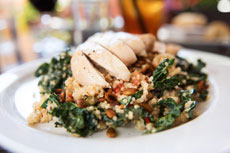 This salad's great ingredients are high in flavor and brimming with nutrients. Kale is known for its anti-oxidant, anti-inflammatory and cancer preventive properties, while apples have phytonutrients that help regulate blood sugar, and chicken is a great source of lean protein.
Serves 4
Ingredients
4 – 4 ounce chicken breasts, of similar thickness for ease of cooking
2 tablespoons olive oil
1/2 teaspoon salt
1/2 teaspoon ground black pepper
2 tablespoons fresh herbs (thyme, rosemary, parsley, etc.), chopped
4 cups thinly sliced baby kale, loosely packed
2-3 tablespoons fresh lemon juice, about 2 small lemons
2 tablespoons olive oil
1 cup tart, sweet apple (such as Fuji or McIntosh), thinly sliced
1/4 cup dried cranberries
1/2 cup Parmesan or Pecorino Romano cheese, shredded
Directions
If cooking indoors, preheat oven to 400 degrees. If using grill pan, preheat the pan in the oven.
Marinate chicken breasts in olive oil, salt, pepper and herbs overnight or for at least 4 hours.
Grill chicken to internal temperature of 165 degrees, turning once, about 5-7 minutes each side.
Toss kale with lemon juice, olive oil, apples and cranberries; adjust taste as needed by adding lemon and olive oil and let sit for 10 minutes.
Serve sliced chicken breast on top of salad and garnish with cheese.
The Chef Marshall O'Brien Group is a dedicated assembly of professionals based in Minneapolis, Minnesota, committed to the goal of using nutrition to get kids and families to lead happier, healthier lives.